Christopher Anthony Din Chong graduated with a Bachelor of Science degree in Physics from the University of the West Indies. While developing a new hobby, Christopher discovered his love and talent for writing. This new interest led to him graduating with honors, with a Bachelor of Arts degree in Film Theory and Production and establishing himself as a film and television Producer.
Christopher co-founded C.R.E.A.T.E. Strategies Co. Ltd a full service communication company. He has conceptualized/produced/directed several commercial projects for private and government agencies. He formed the Forward Ever Foundation in 2011 to tutor underprivileged children in story development and video production. The Foundation's offerings have evolved into  Music, Publishing and New Media. He wrote, produced, and completed the cinematography for the short film Purple and the International Inspiration documentary: The Singapore Promise. Christopher has also established a film production company called 3 Line Studios. He was part of the team that produced the documentary film Coolie Pink and Green which was screened at several prestigious film festivals internationally and won several awards. He produced, wrote and directed the Supernatural Thriller 3 Line and the Crime Thriller Sanskara. He produced Queen of Soca (2019). 
Christopher is presently producing, writing and directing several television, web based, novel based, film and theatrical productions including Bois, Lynch, Stumps and Carnival of the Dead. He is currently developing a slate of thriller, horror and fantasy projects.
An experienced Banker with several years banking expertise in the financial services industry, having served at management level since 1998.
Experience and training is wide ranging covering such areas as banking, finance, corporate governance, fraud, anti-money laundering, Bank Premises, Bank Acquisitions eg ABN AMRO, Surinam, Implementation of Foreign Exchange Services/Systems/Operations Processes, H/R.
Skilled in Foreign Business, related training and documentation, augmented by proactive /consistent awareness of surveillance/improvements of International Regulatory Bodies
Proficient in Foreign Business, with significant knowledge in this field with a BA in International Business.
Qualified in Management, Leadership Development
International Trade Services – Regions Bank, USA
Foreign Cash Operations – Republic National Bank, USA
F/X Risk/Interest Parity/Liquidity etc – Barclays Bank PLC, Miami
International Wire Transfers/Systems/Operations – Society for Worldwide Interbank Financial Telecommunication (SWIFT)
Currently, involved in Foreign Business Services/Systems, Service Delivery, Project Management in the Financial Services Sector.
Track record in optimal results through initiatives that exceed operational performance targets and yield measurable outcomes.
She is a Director and co-founder of 3 Line Studios and is at present producing a series of cultural products.
As a Director and co-founder of the Forward Ever Foundation (FEF) and 3 Line Studios, her Managerial and Training skill sets are being utilized in many FEF Projects.
She Co-produced the Crime Thriller Sanskara (2015) as well as Queen of Soca (2019).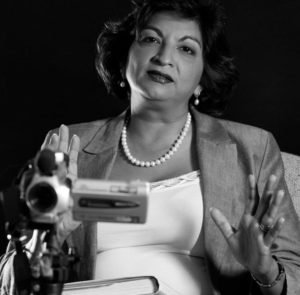 Patricia Mohammed is a scholar, writer and filmmaker. She is Professor of Gender and Cultural Studies and Campus Coordinator/Chair, School for Graduate Studies and Research at the University of the West Indies, St. Augustine, a post she has held variously since 2007. She has headed the Institute for Gender and Development Studies at St Augustine for various periods and from 1994-2002 was appointed as first head of the Mona Unit, Centre for Gender and Development Studies, UWI. For the Fall semester 2007 she was Visiting Professor at State University of New York at Albany and has had visiting fellowships at University of Warwick and Queen's University, Belfast. She was a recipient of the Vice-Chancellor's regional award for Excellence in Research at The UWI in 2015.
Recipient of the Gold Medal for the Development of Women. Professor Mohammed was a pioneer in the development of the feminist movement in the Region of Gender and Development Studies at The UWI St. Augustine Campus.
A public servant with over thirty (30) years experience holding various senior positions in the Government of Trinidad and Tobago. A permanent member of the establishment of the Ministry of Community Development for over fifteen years
The various portfolios to which she has been assigned, has the development of relationships with a wide cross section of Community Groups
She has supervised the execution of many projects on behalf of the Ministry eg CARIFESTA 2019
Currently involved in the facilities Management of the Ministry and assist in the organization and management of events on behalf of the Ministry
Functions at the executive level on three registered NGO's and is involved in both project and events management
She has successfully completed a Leadership Development Programme for Community Development Officers at the Arthur Loc Jack Graduate School of Business
Philomen is very motivated and passionate about serving her Community and has over fifteen (15) years experience in this area.