Participants will focus on the initial stages of writing a feature-length screenplay.
Students explore the idea of development, story groundwork and principles of story structure.
Leads students through craft challenges in the creation of a fully developed story outline.
Guides developing directors towards an understanding of the process of acting.
Provides an understanding of the actor's process and territory as the first requirement of effective directing
Participants will become fully absorbed in the active assimilation of new knowledge and skills.
Students will be introduced to graphic software such as: Toon Boom, Maya and After Effects.
Cinematography Photography​
Provides an intensive study of the foundational elements of lighting, camera and photography, as they relate to film and video production.
Offers a practical course in film production planning including script breakdown, scheduling, budgeting, financing, legal issues, collective agreements and administrative procedures.
Examines in detail the creative and financial role of the production team, including the Production Management, Assistant Directors and the Location Manager.
Explores the combined work of actors and directors. It includes scene study, preparation and the recording and editing of dramatic scenes.
Explores the practice, aesthetics and theory of image editing. During the course, students will engage in a series of short exercises, covering a variety of styles, genres and modes
Sound recording practices and principles in the field as well as a hand holding introduction to sound mixing
Explores the practice, aesthetics and theory of documentary film and video production
Special Effects Make-up/ Make-up​
Explores the principles and styles of make-up artistry.
Whether you are a singer or audio engineer it is essential to have an understanding of vocal technologies for music production.
In this course you will:
Acquire an understanding for vocal technologies and music production
Enhance your music with compelling vocal tracks
Utilize new and emerging techniques and technologies to improve your music
Learn to build/design games and apps from inception using the Unity and Unreal gaming engines; become confident with the interfaces and propel yourself forward in a new career.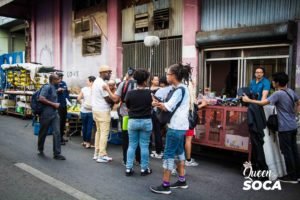 After exposure to introductory (off set) workshops the best and brightest from the off set training, having enough knowledge to not impede productions will be invited into on set training where they will be allowed to shadow production cast and crew.
Building an engaged social following, a brand and a business from the ground up.
Related activities – Accelerator, Incubator, Sales and Marketing, meet-ups (Think Tank)
The proper way to write scripts for audio.
Presenting and announcing skills that engage your audience.
Planning out proper work flow techniques.
Adding music and sound effects.
Interviewing tips.
Choosing the right equipment.
Editing your podcast.